Holiday Gift Guide for Bloggers 2016
Growing a blog and business is hard work and takes plenty of time, money and resources. Give your favorite blogger one of these gifts sure to help boost their blog so they can crush their goals in 2017. I've rounded up some of my favorite blogging tools for my Holiday Gift Guide for Bloggers 2016, these are my must have tools I think every blogger needs. Tell me what's on your blogging wish list?
Note: This post contains affiliate links as indicated by an asterisk. Purchases from these links provides a small commission to me at no extra cost to you.
Tools to Make Home Life Easier
The truth is many of us can't dedicate 100% of time and energy to achieving our dream life. We have tons of roles to juggle, an overwhelming to-do list and less and less time to get it all done. We need ways to simplify our lives and find ways to become more efficient, productive, present and focused on what we're doing at any moment in time.
These are some of the tools I use to make my home life easier in juggling my home, family, chronic illness and this blog. Life with kids is unpredictable and chronic illness adds to the unpredictability of my days. My energy is often limited or it can be zapped completely so I need all the help I can get in getting everything done that I want to!
Plan to Eat
"Mom, what's for dinner?" How many times do you get asked that in a week? I always need an answer to that question. Menu planning has become a necessity for me, both so I know the answer to that dreaded question and so I can plan my energy and day accordingly to ensure a good meal is on the table to nourish my growing boys.
Plan to Eat* is the menu planning tool that I have LOVED for the last two years. Since I'm a total Pinterest addict, I save recipes I want to try to my boards. Then when I'm ready to try it, I copy and paste the link into Plan to Eat and click "import or search" and Plan to Eat pulls the recipe into the planner so I can save it.
Then I find the recipes I want to make for the week and drag them into the planner.
Once the week is filled in, I click the "shop" button at the top and ta-da, my shopping list is created for me.
Plan to Eat puts a letter code next to the recipe in the sidebar and a corresponding recipe letter for each item in the shopping list. Plan to eat even puts the items into the sections where they are found in the store. You can easily add or remove items from the shopping list and then print it up. Simple menu planning done with a few clicks.
Check out Plan to Eat* here.
Planners
Being the planner addict I am, you didn't think I could write a post that didn't proclaim my love for planners, did you? Here are my favorites to help juggle the craziness of life.
Day Designer Daily Planner
Once I started taking Elite Blog Academy 2.0*, I realized I had too much going on for my weekly Plum Planner/bullet journal. So I purchased a Day Designer for the academic year and love, love, love it. It has enough space for my daily schedule and to-dos. But I also love the goal setting pages that makes us think about what we want to achieve and helps us break our goals down into manageable pieces. You can see much more about the Day Designer features and pictures of the pages in my Day Designer planner review.
Can't wait? Check out the Day Designers available in spiralbound mini and full-size and an A5 binder version here*.
Living Well Planner
Since starting Elite Blog Academy*, I've been a big fan of owner Ruth Soukup's products. Every webinar, printable and course I've taken has helped me. The Daily Productivity Guide I got with EBA helped me figure out what I wanted for my dream life, not what I thought I had to do but what I wanted to do.
So I've had my eye on this Living Well Planner. Ruth brings the same goal-setting and goal-crushing strategy and bright, uplifting colors from the Daily Productivity Guide into this planner. If you like a weekly format, check out the Living Well Planner.
Check out the Living Well Planner Shop*.
Blogging Goodies
FREE 2017 Blog Planner
Can you believe 2017 is just around the corner? Get a jump start on your blogging goals and plan out your editorial calendar with my FREE 2017 Blog Planner that you can use on Google Drive, in Excel or print from a PDF. Make sure you subscribe to my newsletter to get access to this planner and other exclusive subscriber freebies, printables and deals news.
Hosting
New Blog Hosting
Last year, my fellow NC Blogger Network tipped me off that New Blog Hosting was an excellent deal and superior customer servicefor hosting. Since David is a small business owner, I get personalized attention from him and a prompt response for the few times I've had issues or questions to run by him. I highly recommend him and for $35/year (about $2.92/month), I'm sticking with him!
Check out New Blog Hosting* and tell them Mom's Small Victories sent you!
Blogging Courses
Elite Blog Academy 3.0 is coming!
Elite Blog Academy 3.0 (EBA) is coming in February 2017 for a limited time to purchase (and by limited time, I think it's only for sale a week or two for the entire year). EBA is the most comprehensive blogging course I've invested in, taking me from thinking about my blog's mission to turning the blog into a profitable business. Leading up to the launch of EBA 3.0, the freebies and webinars will be pouring in too, so you'll want to get on the mailing list now* so you can at least grab the freebies like 7 Surefire Ways to Boost Your Blog Income Overnight* and The Blog Structure Blueprint*and blog-changing advice that Ruth and her team provides. I've already made back the price I paid for the course and I'm only on Unit 2 of 12. Ruth knows her stuff and it works!
Content Brew: Content Strategy & Planning
I loved the Content Brew* class I took years ago and my editorial calendar is full to the brim with ideas to write about. Content Brew is now a self-paced course which means you can take it on your own time and as it fits your schedule. Melissa updates the courses as blogging best practices and technology changes. Since we get lifetime access to the course, we can always access the newest information and get a refresher on the lessons. How awesome is that? I'm going through the brand-spanking new course now and it is epic!
Melissa is a wonderful teacher, explaining difficult concepts in an easy to understand manner and with a bit of humor. Classes are concise and incredibly helpful with valuable printables that summarizes important information well. Melissa set up Facebook groups where we could ask her questions directly during the class and is very responsive.
Check out Content Brew* here.
Pinning Perfect
If you're new to my blog, maybe you haven't heard me gush over how Pinning Perfect brought me 1,899% growth in blog traffic from Pinterest alone! But it's true, Pinning Perfect was one of those game-changing courses I took. The course has been updated and again, since Blog Clarity gives us lifetime access, I get to take it again and learn how to deal with changes in Pinterest algorithms and mindset. Melissa and Anna give us the inside scoop from their relationship with Pinterest and it's awesome!
Check out Pinning Perfect here*.
Media Kit Smash
The only of Blog Clarity's classes I have not taken yet, Media Kit Smash will help you get the attention of brands with a rocking media kit. Melissa walks you through creating a kit on Canva and gives you 8 free templates to get you started in the right direction. This course is on my blogging wish list when I'm done with EBA*.
Check out Media Kit Smash* here.
Skyrocket Blog Pageviews and Dominate Search Engines
I took the free 5-day Skyrocket Blog Pageviews Using Google Analytics and Dominate Search Engines courses from Learn to Blog Hangouts where they gave us a taste of the actionable lessons they teach in the full course. Both of them were great with simple tasks that I didn't know could make such a big difference. I'm always lost when it comes to Google Analytics and Webmaster tools and I love how simple Kelli and Crystal make these complicated tasks. I purchased Dominate but have not completed it yet.
Check out Learn to Blog Hangouts shop* here.
Themes and Plugins
HelloYou Designs
I finally took the plunge and invested in Genesis and the Hello Trending child theme from Hello You Designs*. I'm still putting the finishing touches on it but what I love most is the grid layout on the homepage, the share buttons on the blog posts on the homepage and it's very easy to update and customize.
Jennifer has gorgeous designs, promptly answered my questions and squeezed in my install before the Thanksgiving holiday. I highly recommend this theme if you've got the Genesis framework already and need a stunning child theme. I don't have a portfolio or a shop yet but if you're a small business owner, you've really got to check out how gorgeous these themes are and imagine what they can do for your business!
Check out Hello You Designs here.

Tweak Me Themes by Nose Graze for Self-Hosted WordPress blogs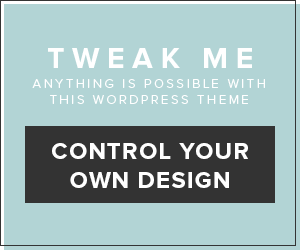 Last Black Friday, I purchased Tweak Me version 2*. With Tweak Me version 2, I can build my entire site from scratch, choose ANY Google font or color scheme for my headings and body text and even a different layout for each post or page to make my site truly unique. It has a massive settings panel that is easy to navigate through. You can take Tweak Me 2 for a test run and try it out in demo mode before you buy it. I think it's good to know what you're getting yourself into.
Check out Nosegraze's shop* here.
Ultimate Book Blogger Plugin for Self-Hosted WordPress blogs
If you review and recommend books at all on your blog, I highly recommend the Ultimate Book Blogger Plugin* (UBB). This plugin makes it simple to add a book cover, author and book info, star ratings, synopsis, affiliate links, giveaway, and blog tour info into your book review. To me, the best part is once the info is in, your review indexes are automatically updated. You can have a review index by genre, author, title or star rating using simple short codes to get the job done. It's also easy to create giveaway pages or put giveaways in your sidebar. This plugin really has everything a book lover will need to share helpful and nicely formatted book reviews. You don't have to take my word for it, try out UBB before you buy it.
Check out Nosegraze's shop* here.
UBB Addon to Goodreads
Confession: I was a horrible book blogger and kept forgetting to upload my reviews to my Goodreads account. I got this add-on last Black Friday and love it. Now when I'm writing a book review, I check a box, copy in the text I want from my blog review to the appropriate space and bam, my review and a link back to my blog auto-posts to Goodreads. A small investment that will be a big timesaver and save me some book blogger guilt, score! Now I need something that will auto-post to Amazon!
Check out Nosegraze's shop* here.
Grab the BEST #BlackFriday Deals for #bloggers. Huge savings on hosting, courses, & themes, oh my! Click To Tweet
Fun Gift Ideas for Bloggers
Canon Rebel T6 Digital SLR Camera* – because every blogger who doesn't have a DSLR, wants one!
Well those are some of my favorite things that I included on my Holiday Gift Guide for Bloggers, must have tools every blogger needs to boost their blog and crush their goals in 2017! What are your favorite blogging tools that help you maintain, design and grow your blog?
Pin for Later